Slate House Signs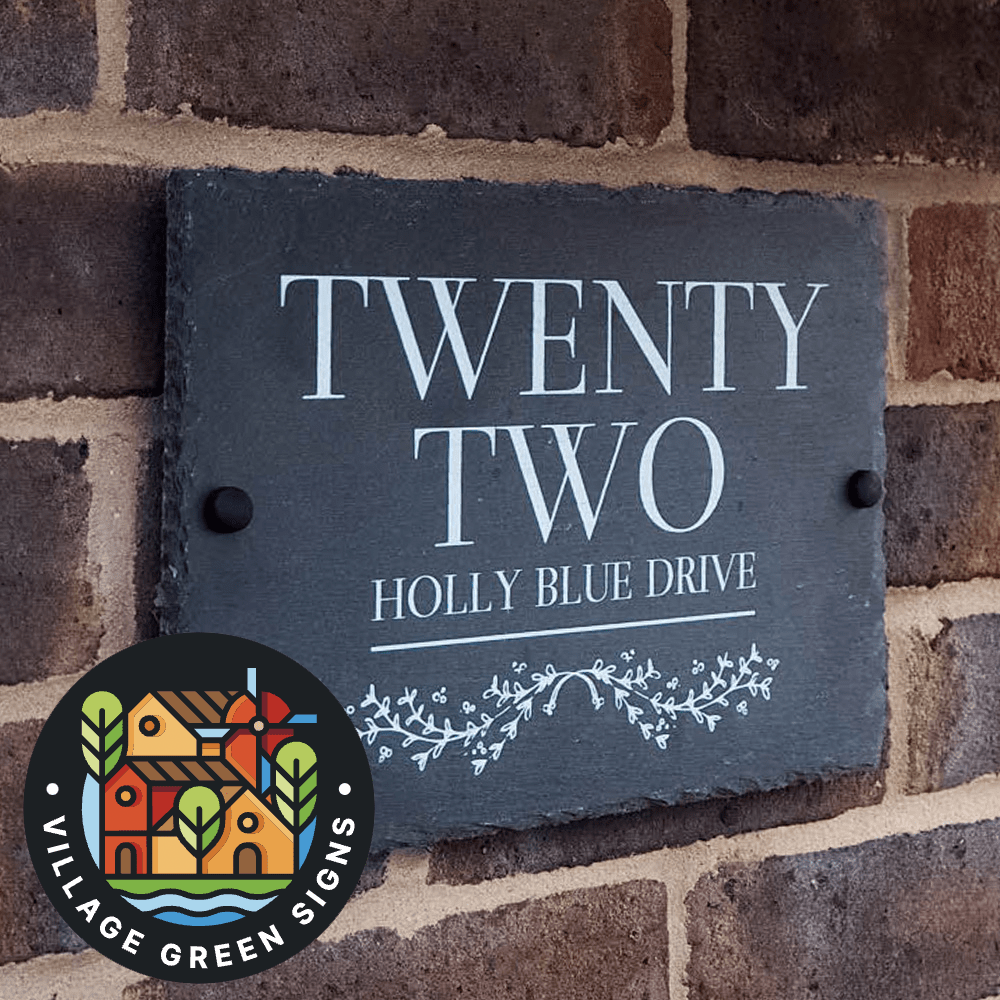 One of the most popular types of signs on the market, slate house signs feature a material that's both naturally beautiful as well as durable, so you'll be able to have the perfect cross between visual appeal and functionality! You're bound to love the rustic charm of slate door signs as much as we do; that's why we have one of the most varied selections of slate signs online, with completely customisable options to give you all the power over size, text and much more. Our new 2023 range of house signs includes plenty of eye-catching, striking designs of house signs in slate, so if you're looking to boost your kerb appeal there really is no better way! As well as that, slate house number signs are practical since their bold appearance is perfect for clearly distinguishing addresses, so if you often find parcels left in the wrong place, choosing a brand new slate house sign is a great way to help avoid it. Whatever your reason to want a new slate house number plaque, you can have one delivered in the UK or all around the world!
There's a humble elegance to natural materials like stone, wood and slate for your house signs. Unlike some other materials, they have a relaxing and warm feel, and the versatility of slate house number signs means they can blend seamlessly with any type of aesthetic - be it modern or traditional, urban or rustic.
It's important to take just as much care with the exterior appearance of your home as you would with the interior, but many homeowners leave it neglected and forgotten about. A slate house number is an easy way to showcase your personality on the outside of your home, and the naturally sourced material used (unlike acrylic house signs, ceramic house signs and others) is sure to bring that touch of elegance and style that so many houses need. We love nothing more than to see an engraved slate house sign bring that finishing touch, and we firmly believe it could be the perfect pick for you regardless of the type of home you have!
Why Choose Slate Door Signs?
A good house sign will fill you with happiness when you see it, and give visitors a great first impression when they arrive at your door - but why choose a slate house sign? Firstly, slate door signs are great in the sense that they're made from a natural material, to which we're inclined to feel relaxed and comfortable when we see them, which is perfect when creating a homely look. Additionally, slate house numbers are waterproof, making them ideal for bearing the brunt of British weather; your slate number plaque will be exposed to the elements 24/7, so it's a great thing to have!
Engraved slate house signs are as affordable as they are durable - starting at a very reasonable £18, it's never been easier to find an amazing slate door sign from our range, and we're proud to be able to offer all our customers a finished product that they love.
Slate House Number Signs For Every Home
As well as our various designs and styles of slate house plaques, we've got hundreds of personalisation options that can go on top of our templates to make sure your slate house sign is personal and unique to you - no two of our signs are the same! Whether you're looking for sleek slate house signs for contemporary properties or want to embrace the rugged charm that natural slate can provide, we have designs for any use. We also have customisable bird house signs, flower house signs and more should you be looking for something different from a slate number sign, but all our signs have the same personalisable features to truly make it your own.
Staying on top of emerging trends and continuing to carefully source the highest quality natural slate allows us to offer one of the best ranges of rustic slate house signs around, and with our ability to deliver in the UK and worldwide, we think we're unbeatable when it comes to quality, affordability and customer satisfaction.
Why Buy Slate Door Signs From Village Green?
Our years of experience have taught us the best practices, materials and techniques necessary to create the perfect personalised slate house signs that our customers will love for years after they get them. With a talented team of specialists and customer service representatives, we want you to trust us with your next slate number plaque, and we promise you'll love the finished product we deliver! Our reputation precedes us when it comes to high quality slate house signs, and we pride ourselves on being able to deliver perfection every single time.
---
FAQ'S
Are slate house signs durable and long-lasting?
Not only are slate house numbers highly durable, they're made from one of the best materials for longevity. That's because of their waterproof quality, so it's perfect for the ever-changing weather conditions - especially in the UK!
Are there any different types of slate house signs?
Slate number plaques can come in many different shapes, sizes and designs, with circular, square and rectangular options, floral designs, and many more - with a personalised slate house sign, you can have control over all these elements!
Are slate house signs affordable?
Absolutely - with our cheapest slate house sign starting at only £18, this type of customisable house sign is perfect for anyone who wants to make a simple aesthetic improvement to their home.